Why Choose us for Your Office Interior Design
Extensive Expertise: With over 25 years of experience in office interior design, we have a deep understanding of how to create spaces that inspire productivity, creativity, and well-being. Our talented team of designers stays up to date with the latest trends and best practices in the industry.
Client-Centric Approach: We believe in building strong partnerships with our clients. Our designers take the time to listen, understand your unique requirements, and deliver personalised solutions that exceed your expectations.
Attention to Detail: We believe that the details make all the difference. From selecting the perfect colour scheme to meticulously choosing furnishings and accessories, we ensure that every element harmonises to create a cohesive and captivating workspace.
Managing Your Office Interior Design Project From Start to Finish: Our dedicated project management team oversees every aspect of your office interior design project, ensuring a smooth and timely execution. We work closely with contractors, suppliers, and other stakeholders to deliver exceptional results within budget and on schedule.
Elevate your office environment and unlock the potential of your business with our Office Interior Design service. Contact us today to schedule a consultation and take the first step towards transforming your workspace into an inspiring hub of success.
Our Approach:
Consultation and Needs Assessment: We begin by conducting an in-depth consultation to understand your vision, requirements, and objectives for your office interior design. Our team of experienced designers will work closely with you to analyse your space, gather insights, and identify your unique needs. We believe in a collaborative approach, ensuring that your vision is at the forefront of our design process.
Space Planning and Layout Optimisation: Our designers excel at maximising the potential of your office space. We create detailed space plans and layouts that optimise the flow, functionality, and utilisation of every square foot. By carefully considering your team's workflow and spatial requirements, we design an environment that promotes productivity, collaboration, and efficiency.
Interior Design Concepts: Once the space planning is finalised, we translate your vision into captivating interior design concepts. Our team carefully selects colour palettes, materials, finishes, and furnishings that reflect your brand identity and create a cohesive and inspiring atmosphere. From sleek and modern aesthetics to warm and inviting ambiences, we ensure that every element of your office interior design aligns with your business values and objectives.
Branding Integration: We understand the importance of brand consistency. Our designers seamlessly incorporate your branding elements into the office design, ensuring that your space reflects your unique identity. From customised signage to branded graphics, we create an environment that reinforces your brand message and leaves a lasting impression on clients and employees alike.
Ergonomic Solutions: Your employees' well-being is our priority. We integrate ergonomic principles into our design approach, providing comfortable and supportive workstations, seating, and lighting solutions. By considering ergonomics, we create a workspace that promotes good posture, reduces fatigue, and increases productivity.
Collaboration and Common Areas: Foster teamwork and creativity with thoughtfully designed collaborative spaces. Our designers create inviting breakout areas, meeting rooms, and communal spaces that encourage communication and collaboration. By incorporating flexible furniture solutions and innovative design features, we enhance employee engagement and boost morale.
Sustainable Design Practices: We are committed to sustainable design principles. Our team incorporates environmentally friendly materials, energy-efficient lighting, and sustainable building practices wherever possible. By prioritising sustainability, we create office spaces that are not only beautiful but also environmentally responsible.
From design to completion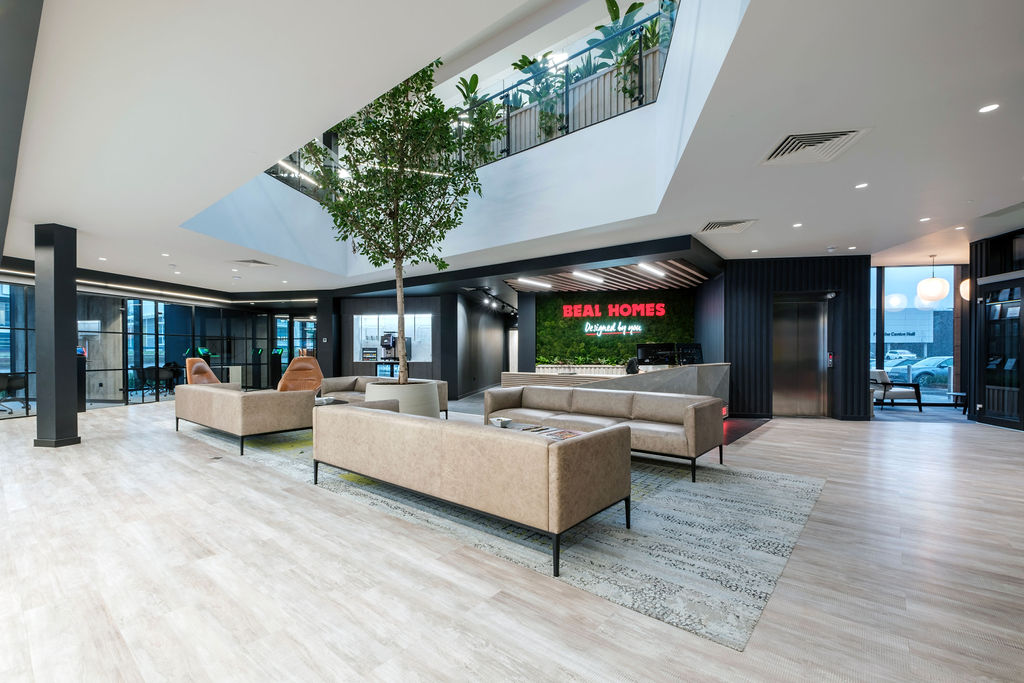 Working collaboratively, we bring design to the heart of your workplace.